Where To Bulk-buy Animal Feed Woven Bag In HCM City?
Animal feed woven bag is designed to contain all kinds of gran, flour, grain,.. for cattle with high durability and volume as well as diverse designs. Duong Vinh Hoa Packaging Comapany specializing in manufacturing & supplying animal feed bag in large quantities and with cheap prices. Hotline for quote, consulting & order in HCM City : (84-272) 3900 228.
What is animal feed woven bag?
Animal feed woven bag is the package line specializing in containing cattle food. This kind of package which is highly recommended by manufacturing cattle food enterprises is widely used due to its durability ( because it is composed of primary PP plastic granules). Besides, animal feed bags have various volumes, maximizing the containing capacity, ranging from 5kg, 10kg, 20kg. They also have diverse designs and vivid images such as animal images.
Since Vietnam is an agricultural country, the raising cattle and poultry industry has been really focused, therefore, the demand for animal feed also increases, leading to the mass production of animal feed bag.
Particular advantages of animal feed woven bags
This kind of bag which is made from PP woven laminated with gravure printed BOPP film, wrapped by PE, left with folded hip and one close head has these advantages :
+ PP woven fabric has high mechanical strength
+ Gravure printed BOPP film to print its logo and product information onto.
+ The folded hip structure creates the multi-dimensional perspective for the product.
+ PE bag is moisture proof, water proof so that it can protect the inner product, preserve the food in the best way.
The printing technology used for animal feed bag is the using of high quality gravure printing machine. This is one of the modenest technique until today. With professional staff, we surely bring you the best quality animal feed bags.
A prestigious animal feed bag supplier for you to bulk-buy in HCM City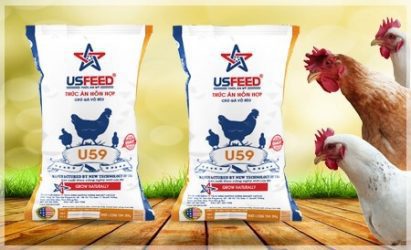 With the increasing demand of many enterprises in purchasing a large number of animal feed bags, there are more and more companies arise that supply this kind of package. Therefore, users need to be conscious to identify a prestigious supplier.
Duong Vinh Hoa is a manufacturing and supplying packaging company – with more than 25 years of experiences in the industry and professional employees. Especially, Duong Vinh Hoa focuses on investing on production line, up-to-date equipment which is directly imported from foreign countries.
Today, Duong Vinh Hoa is considered as the animal feed bag supplier with the largest production capacity : more than 22 million bags/year, not only satisfying domestic needs but also pushing to export its products overseas.
Duong Vinh Hoa makes sure to always put the product quality as our top priority, and update items; designs every day to satisfy customers' demands. With our current position, Duong Vinh Hoa is getting more popular with many customers and is highly evaluated for its production capacity and product quality.
Contact us for consulting, quote and bulk-buying with the fastest speed : (84-272) 3900228
MANUFACTURING & SUPPPLYING PACKAGES – DUONG VINH HOA PACKAGING COMPANY
D20-D26, Street No.3, Hai Son Industrial zone, Duc Hoa, Long An, Hochiminh City, Vietnam
Email : [email protected]
Info: [email protected]
Tel: (84-272) 3900228/229
Fax: (84-272) 3900220