How To Know Which PP Woven Bag Supplier Is Presigious
Nowadays, there are many prestigious places that produce woven PP bag are established to satisfy the increasing needs in the market. Therefore, choosing a package supplying unit is getting more difficult due to the growing competitive density. Duong Vinh Hoa Packaging Company specializing in manufacturing many kinds of PP woven bags and is committed to produce high quality products with reasonable prices.
Procedure of a prestigious PP woven bag's production center
PP woven bag is commonly used in industries such as fertilizer, chemicals, food and animal farming,… The production procedure of PP woven bag in a prestigious center includes :
Creating PP fibers : PP plastic granules are sent to a hopper of the fiber generating machine, then will be transferred to the extruder by a vacuum and get melted by heat, after that the screws will push them into a mold which has the required length and width. The plastic layer is formed through a shaped cooling water tank, then will go into the behind-shaft where a knife will cut it into fibers which afford the required width ( 2-3mm). Finally, the fibers will be sent to the heating body to stabilize their shape and then to the spinning machine. During the process of generating fibers, the waste fibers, bavia of the plastic film will get recycled by vacuuming, shredding and returning to the extruder.
Weaving PP fabric: PP rolls are put into a four-shuttle circular room to be weaved into PP fabric tubes, then the knife will cut them into smaller PP fabric pieces, and a certain mechanism will do the last part.
Laminated PP film : PP rolls will be sent to the laminating machine by forklifts, the PP cloth is coated with a thick PP plastic to strengthen the bonding of the moisture-proof fibers.
The bag shape forming system: The laminated PP rolls and a Kraft paper tube will be sent to the bag shape forming system. In here, PP fabric will get its logo, then be wrapped with Kraft tape and become a tube. Through the system, knife cuts the tube and valve and forms the tube's shape push it out by conveyor.
Head sewing machines, packaging process : the bag's tube will be sent equally to the automatic valve folding system and the head sewing machine, be packaged and go through the chain system. The finished package will be pushed out by the conveyor.
Packaging: The packages will be checked carefully, compressed and packed, and then transferred to the warehouse by forklifts.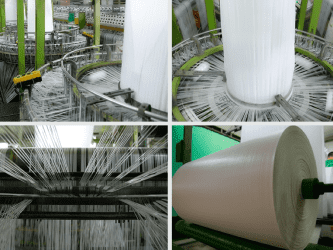 In order to ensure such production line, the suppliers of PP woven bag needs to be equipped with modern machines. The PP woven bag suppliers need to use :
Manual bag cutting machines
Cutting and Stitching machines
PP Machines that laminate PP film
PP Printing machines
Machines that receive fibers
Spinning machines
Granulator
Criteria to identify a prestigious PP woven bag supplier
Nowadays, there are more and more PP woven bag suppliers and it provides you various options. However, this can also be difficult for you to find yourself the most suitable place. In order to evaluate and identify the best supplier, you can refer to the following criteria;
Reputation of the production center
Certificate which ensures the safety
Production scale
Product prices
Product quality
These are factors that claim reputation of any PP woven bag supplier.
Duong Vinh Hoa Packaging Company – the best choice that satisfies the needs of PP woven bags for domestic and international enterprises
Manufacturing & Supplying Packages – Duong Vinh Hoa Packaging Company has more than 25 years of experience in the manufacturing & supplying PP packages in Vietnam. Nowadays, Duong Vinh Hoa Packaging Companies have appreared in more than 20 countries around the world and prosessed many patents and certificate of quality. Our business philosophy is to use product quality and customers' experiences a keystone, Manufacturing & Supplying Packages – Duong Vinh Hoa Company is confidently taking steps to become the leading Vietnamese brand in manufacturing and supplying packages as well as plastic bags.
With employees who have high qualifications and modern equipment, Duong Vinh Hoa ensure the best environment to produce high quality packages. Being one of the leading units in producing PP woven bag, Duong Vinh Hoa is clearly aware of the needs of large enterprises. You will be well informed about all the details of the PP woven bag, its advantages and role for commodity. In order to earn customers's faith, Duong Vinh Hoa always puts the "quaility of products" criterion our most important priority.
Working with Duong Vinh Hoa, you will receive those following benefits:
Diverse designs of packages and plastic bags
100% of good quality
Applications in many industries : Food, fertiliser, animal farming,…
Reasonable and competitive prices
Eye-catching designs
100% safe for customers' health, we guarantee there is no substance that may cause harm to people health.
Professional and Free Consulting
Deliver in time, preserve the products carefully.
MANUFACTURING & SUPPPLYING PACKAGES – DUONG VINH HOA PACKAGING COMPANY
D20-D26, Street No.3, Hai Son Industrial zone, Duc Hoa, Long An, Hochiminh City, Vietnam
Email : [email protected]
Info: [email protected]
Tel: (84-272) 3900228
Fax: (84-272) 3900228